Description
Pumaspeed Racing Re-Active Intercooler - R-Sport Pro Intercoolers
Direct fit to OE mounts
NO CUTTING OF BODY WORK REQUIRED
COMES COMPLETE WITH TWO SILICONE PIPES
100% alloy construction
High Flow Low Internal Volume Cast Alloy End tanks
Huge Super Efficient Tube and Fin Core 620x115x190
2 year unlimited mile warranty
Lightweight 6.7kg
The brand new Pumaspeed Racing Re-Active Intercooler is finally here to suit the Toyota GR Yaris.
Manufactured Entirely in the UK this Cooler has been CAD designed from Pumaspeed 3D scans of the under bonnet for total accuracy and perfect fitment.

What does this kit Include ?
The Kit includes the Intercooler itself plus two silicon hoses to allow perfect fitment to the existing Toyota Boost Hose Kit.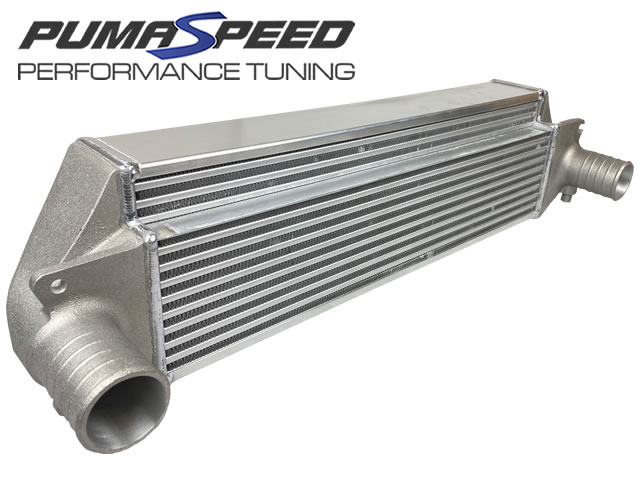 What makes this different from other coolers out there ?
The Primary Design Goal was to provide absolute No Compromise Performance, with Total Reliability and Efficiency. The only way to achieve this is to use an Intercooler core of stuffed tube anf fin construction made within the UK. This core surpases all heat rejection capabilities of any Bar and Plate system and can instantly react to on and off throttle demands and will not hot soak under any circumstances.
The new Pumaspeed Racing Designed Intercooler Features internal Pipework diameter increases perfectly Flowing End Tanks and a new uk manufactured Super Efficient Stepped Core with almost twice the internal Volume over the Stock Intercooler.

It was very obvious at first inspection that a cooler could be designed to add performance, the original cooler was found to be a simple box with restrictive end tanks that would never suit the needs of the performance enthusiast. The OE Pipe work again was found to be very small and in many places was found to be less than 35mm internal diameter which in no way can be described as adequate for anything above 275 bhp.


Performance
The Plastic End Tanks on the Stock GR Yaris Intercooler have a 39mm internal diameter.
As part of the design we have increased the internal diameter of the entry and exit pipework on the cast end tanks from 39mm to approx 53mm which we have proven can run over 450bhp on our own 1.6 Ecoboost Fiesta. We have also manufactered a Boost pipe kit from the turbo outlet to the inlet manifold that has an internal diameter of approx 53-54mm which again steps the sizing up dramatically.

Reliability
The Cooler Features 5mm thick CAD Designed and Flow Tested and Tanks. this ensures Zero flex between the Cast Tanks and the Central Core weld line, which in turn leads to a much stronger joint with no flex and eventual metal fatigue failure. We cover this with a 2 year unlimited mileage a Repair and return Warranty.

Efficiency
With over 20 years of Tuning experience and Intercooler Supply we have accrued vast knowledge of the sort of core required for Track and Race use. We could have selected the very commonly used bar and plate cooler core which is very reliable and very inexpensive, but for this release version of the Intercooler we have selected the very very efficient tube and fin Re-Active Core that has unparalleled Heat Rejection and Recovery rates. These are specifically designed for Racing and UK designed and manufactured for ultimate Performance.

Testing
It was very Quickly apparent when we where Dyno testing Our Own Demo back in January 2021 that the intercooler was struggling to cope, we reached a Dyno room testing IAT of over 43 Degrees on many occasions. It also very well known that the GR Yaris ECU pulls Power Down after 50 Degree intake temps which is a good safety Feature but very annoying on track or in hot climates.

This Cooler is built without Compromise with the very best Core and End Tank design Possible

The intercooler core size is 620mm x 115mm x 190mm and it weighs in at 6.7kg, powder coated in satin black or silver.
This Pumaspeed Racing Re-Active Intercooler fits the following models:
- GR Yaris
Specifications
| | |
| --- | --- |
| SKU | PS_YARISGR_IC |
| Brand | PUMASPEED |
| Shipping Weight | 20.0000kg |
---
More From This Category