Dreamscience Stratagem IMAP Tuner Handsets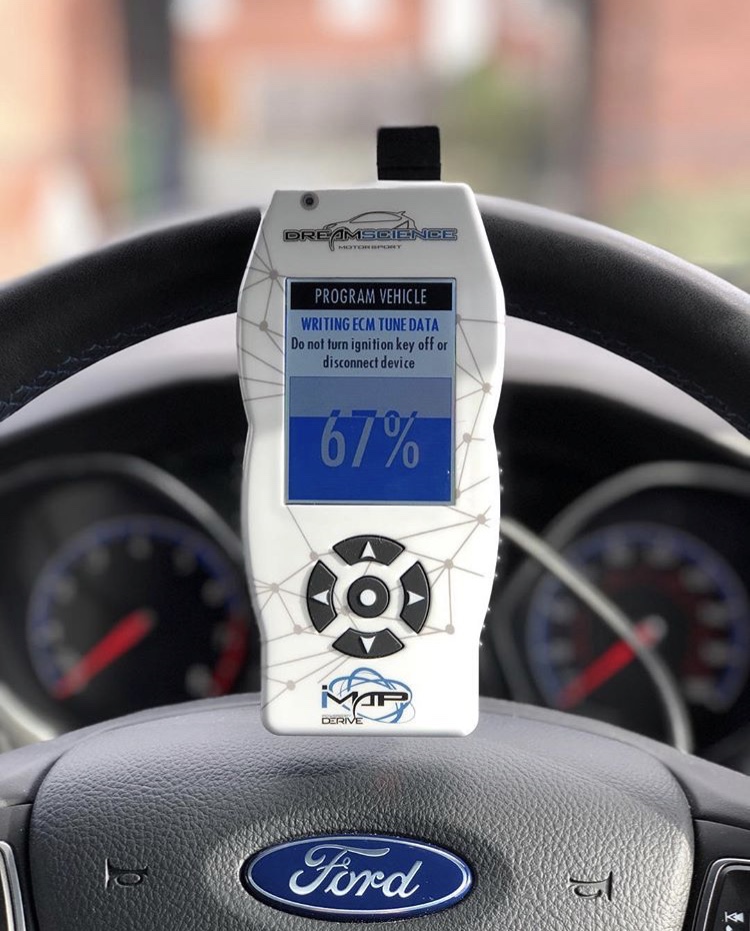 The Dreamscience Stratagem iMap™ is the latest and most innovative flash tuning handset brought to you by the tuning wizards at Dreamscience Motorsport. We have made this all possible by collaborating with one of the world's largest and most successful Ford Tuning companies SCT who are based in the USA.
This exciting partnership has ensured that we have the very latest device hardware technology, plus an un rivalled resource of combined tuning knowledge and experience, it is no coincidence our tunes files are popular market leaders, and are considered to be the best available, as reported by numerous independent specialist magazine tests. Now that most modern performance Fords are released on a global scale we are able to bring new hardware and tuning files for all the new performance Fords even faster than before.
The concept of the Stratagem iMap™ is to offer a simple plug and play, easy to use, attractive, yet multi-functional device that has the ability to offer customers a wide range of Dreamscience's own proven tune files, as well as having the ability to receive custom tune files from Dreamscience dealers worldwide. The new iMap™ is also a multi vehicle device which comes with tune files for the most popular Performance Fords, click the Supported Vehicles tab to view.
All of the Dreamscience tune files on the Stratagem iMap™ have been carefully created at our research centre using our state of the art rolling road, as well as numerous actual road tests on several of each supported vehicle types to ensure we deliver the maximum performance from your vehicle, while maintaining the highest standard of safety and reliability. With the iMap you have the ability to flash between the tune files on the device for your chosen car an unlimited number of times, plus you can flash between stock and a tune file an unlimited number of times.
The iMap has the ability to receive custom tune files that can be e-mailed to you, an example of this is for the Focus ST225 Turbo X and Turbo X+ for our K06 Hybrid turbo upgrade. We are also able to make edits and custom maps for the other supported vehicles on the iMap and these can be sent via e-mail to you and you add these to your device via pc and the cable provided.
The handset can only work on one vehicle at a time. One handset will work on 5 different vehicles as long as you "return to stock" on the device before choosing to map another vehicle. Each time the handset is used to program a vehicle with a different VIN number to the last, a life will be lost. Once the handset is married to a VIN you can flash between tune files and return to stock an unlimited number of times. Once the handset detects a new VIN, It will then use one life. There are 5 lives in total. Therefore, you can sell the device on and the new keeper can simply plug in and go, you cannot keep a tune file on your car and sell the device on as it will not work. We do advise before sending your vehicle into a garage for service or warranty work you return to stock as there may be updates applied to your car which may delay loading a tune file once returned. Invariably the manufacturers do release calibration updates, when this happens we rapidly test these, then we add an update to our website to ensure your vehicle has continued support.
FEATURES
COLOUR SCREEN

MULTIPLE VEHICLE TUNER (SEE LIST FOR CURRENT SUPPORTED VEHICLES)

ON DEVICE LIVE DATA LOGGING

FAULT CODE READER, FAULT CODE DELETE FUNCTION

REMOTE UPDATE ABILITY

ABILITY TO HOLD GENERIC AND CUSTOM TUNES

PC CONNECT ABILITY

CAN BE TRANSFERRED TO 5 VEHICLES AS LONG AS RETURN TO STOCK IS PERFORMED ON YOUR VEHICLE

WINDSCREEN MOUNT AVAILABLE *NOT INCLUDED
Performance+
A good balance of power and economy suited for all fuel types and vehicles which are standard or with partial bolt on modifications, this is the best map for long journeys especially when running super unleaded fuel.
Race+
This aggressive tune delivers maximum boost and our signature shove in the back, ideally suited to standard cars or basic mods such as induction and intercooler upgrades, not recommended for use wih exhaust mods such as down pipe and de cat, best suited with super unleaded fuel.
Dsci
"Race Plus" with a more progressive boost delivery building to and holding a higher peak – works on a wide range of modifications. This map is a customers favorite for all round performance when running upgraded cold air induction, intercooler and cat back exhaust.
Mod B
This tune file is designed to work best with upgraded Intercooler, Cold Air Induction Kit, and full 3″ Turbo back exhaust system. Mod B has a characteristic second boost stage at 4000rpm.
ModB+
Tried and tested "ModB", but with a few new tweaks, increased boost at high rpm and holds boost for longer.
ModC
After a year of development we give you "ModC" with several enhancements above the historic "ModB". This map comes onto boost very early in the rpm range and manages to hold boost to the red line very well. Ideally suited for cars with Induction, intercooler and full 3″ turbo back exhaut. A popular map for track days and dyno days. Mod C Dyno Graph. Mod C Dyno Graph.
Mod X
Definitely our most popular map, this map was conceived from the knowledge we gained tuning the RS MK2, we imported several table changes from the RS MK2 calibration into Mod X and created a truly legendary map. This tune file is only for cars with upgraded induction kit, intercooler and turbo back exhaust system. This map certainly has theX-Factor!! Mod X Dyno Graph.
Mod XRS
This is the pedigree of Mod X but calibrated for the larger Bosch 440cc injectors found in the RS MK2, with modified boost curve and throttle mapping Mod XRS is our top tune for cars with full bolt on mods and RS injectos. For even better performance add the Forge Actuator and recirc valve to turn your car into a weapon usually making in excess of 320+ Bhp.
Performance+
Ideal for standard cars running std 95 octane fuel, this map delivers a good balance of extra power and torque. A customers favorite for commuting or cruising due to the improved economy.
Race
Ideal for standard cars running std and super unleaded fuel, delivers an increased level of power compared to Performance+. Ideal for spirited driving and every day use alike.
DS-Ultima
Our optimum tune for all out performance to be run with 99 octane super unleaded fuel only! Best suited for cars with complimentary bolt on modifications such as Cold Air Induction, Intercooler and turbo back exhaust, it can also be used on the standard car. An all out maximum performance tune ideal for racing and track day. When tested on a standard facelift car with just a panel filter we saw 287Bhp and 393FtLb of torque, and on a car with cold air induction, intercooler and turbo back exhaust we achieve over 300 Bhp.
Dreamscience have become world famous and synonymous with Focus ST tuning worldwide from the days of the Focus ST225 where we attracted the majority market share with our legendary tune files and bolt on modifications. The team at dreamscience have applied this pedigree to the new MK4 Focus ST and have not disappointed with multiple tunes offering our renowned level of reliability, performance and safety keeping our ST tuning synergy alive. ALL 3 TUNES ARE INCLUDED IN THE IMAP-E6 PRICE. THEY DON'T REQUIRE PURCHASING SEPARATELY.
Performance+
This is our standard 95 octane fuel map which boasts a controlled flat torque curve and offers still a healthy increase of power and torque above standard.
You should expect to achieve 300Bhp and 340FtLb with this map compared to the stock map we ran on the same day on our dyno which made very close if not slightly under the quoted figures from the manufacturer of 278Bhp and 295FtLb of torque. This stock run was done on 95 Octane Shell flexi fuel so naturally the stock runs were all a little less than they would have been on 99 octane fuel.
The performance+ map makes more power and torque than the stock tune all the way from 1500rpm right to the rev limiter although peak power is achieved at 5500 rpm and holds well making it ideal to shift gear at 6000 rpm thus staying in the 300Bhp range. This map is ideal for everyday use, commuting, standard octane fuel, and general everyday use without putting extra strain on the engine and drive train. (This map offers an increase of 20 to 25Bhp and 40 to 45FtLb)
DS-Ultima
This is our entry level high octane map which runs 97 to 99 octane fuel, and produces a healthy 315Bhp and 345 to 350FtLb of torque while still achieving a controlled and flat torque curve with no crazy spike making this map very progressive and driveable in almost every condition. This map is the customers favourite as it produces excellent power gains without bolting on any additional modifications and all our tests were performed on a completely stock car running Shell V-Power 99 octane fuel. This DS Ultima map will also deliver better economy in the cruise if you can resist the throttle peddle going wide open throttle as we have calibrated the tune to optimise the higher octane fuels available in Europe and although this can be used with 97 octanes we would recommend 99 octanes for best results. As seen on the graph peak power is achieved a little later in the rev range at 5850+ rpm and it holds the 315Bhp peak to just before the limiter so an excellent map for high rpm and spirited driving. (This map offers an increase of 35 to 40Bhp and 50 to 55FtLb)
DS-Ultima+
This is our trademark map which is designed to run on 99 octane fuel only and produces an impressive 330+Bhp and 375+FtLb of torque on a completely standard car running shell V-Power 99 octane fuel. Although a very strong map we have still managed to control the torque curve for better acceleration with no crazy spike, this characteristic prevents pre ignition and excess strain to the engine. We have made this map ever progressive as can be seen from the graph with an extra lump of power / boost coming in above 5000 rpm making this map feel absolutely insane to drive through the entire rev range. Peak power is achieved just above 5550 rpm and holds well making this map very punchy without having to over rev to extract the maximum power. This map will really catch people by surprise as on the road we estimate the peak power from our airflow readings will be well over the 330Bhp which we achieved on the dyno as the intercooler on this model is very small, dyno fans at 35 mph can't offer the same level of cooling as driving on the road can at say 70+ mph.
Although all testing was performed safely on a standard car we would strongly recommend the first bolt on modification to be an upgraded intercooler on this model. Charge temperatures at higher rpm and boost levels through the standard inefficient intercooler can get pretty high after a few full throttle pulls which reduces reliable power reproduction and reduces efficiency which will be further exacerbated in summer months. Available soon from Dreamscience. (This map offers an increase of 50 to 55Bhp and 80 to 85FtLb) DS Ultima+ dyno graph (MAP ONLY)
Check out the DS Ultima+ being reviewed on the link below!
MK4 ST – DS Ultima+ Independent Review
Race 99
This tune file offers a good balance of power and economy and is ideally suited for every day use. It can be run on regular 95 octane fuel but is best suited to 99 octane such as Shell V-Power and Tesco Momentum. Race 99 offers an increase of 60 FtLb of torque and just over 35 Bhp at 3500rpm where the standard car feels very flat. This tune is not about peak power, it's about improved driveability and performance without exerting the engine or turbo. Peak power is up to 355Bhp at over 6000 rpm and there is never a sense of the power tapering off, it will just keep pulling. Race 99 also boasts better economy so for any long distance trips or commutes while running 99 octanne fuel there is a noticable increase in mpg. If you decide to add an intercooler upgrade and / or cat back exhaust this tune will run perfectly and the extra flow and cooling will simply add to the performance and compliment the map.
Race 99+
Race99+ is our top tune for the RS MK3 and really allows this thoroughbread to show off its full potential. To run this tune file you can only use 99 Octane fuel like Shell V-Power or Tesco momentum, if you can only get 95 Octane please run the Race99 tune, or buy some octane booster like BOOSTANE. Race99+ offers an increase of over 80FtLb of torque and 50Bhp in the mid range and at peak power (6000+rpm) we were able to achieve over 377Bhp which was an increase of nearly 40Bhp over our standard car. This really is an aggressive tune but still within safe boundaries and tolerances of the engine and turbo. When creating these tune files we carefully log several hundred parameters to make sure we not only achieve the best performance but maintain safety and reliability throughout, hence our exemplary reputation on our maps. This tune is ideal for track days and group meets as well as spirited driving, it can however be used on a daily basis too. The beauty of the iMap handset is you have a selection of varying performance maps as well as the option to flash back to stock at any time too. If you add at a later stage an intercooler, exhaust, induction, individually or all at once this tune showed us power over the 400Bhp mark and is a super car killer.
Read more about this tune!
DS-Ultima
As per the title, this really is the Ultimate map for your RS MK3. Customers now get three maps to play with on their iMap and these maps are compatible with the latest calibration update just released. This new tune file has evolved from from Race99+ and gives more low down power / torque, holds a flat torque curve in the middle keeping you pinned to your seat and you still get that little bit extra up top! This tune file is only for super unleaded fuel or equivalent to UK 99 octane such as Shell V-Power. Peak power is slightly up on Race99+, the most impressive part on DS-Ultima is the extra 30+ bhp throughout the mid range keeping your acceleration uniform from 2000 rpm to 6000rpm, this truly is a customers favorite and to see reviews search any of the top RS MK3 forums.
DS Ultima 2
This is the latest tune file and specifically designed for upgraded down pipe at 3″ with sports cat, plus the addition of a Cold Air Intake (CAIS) and most definitely running Shell V power or Tesco Momentum ONLY! Our test car ran the standard intercooler for this test and performed adequately, although a larger intercooler is always going to be better. The test car used for this map creation is different to the one used to make our previous files. Our original test car was a 16 plate and ran 347Bhp stock, our 66 plate test car only ran 321Bhp stock. This being said the terminal peak figures on all maps including stock are lower, however the relative increments are where we want them to be having run through all our maps. This map is included free on the iMap and can also be downloaded for free by existing customers. Our new DS-Ultima-2 tune file gave an increase of 26Bhp throughout most of the rev range above 2500rpm and just over 31FtLb of torque more than DS-Ultima, the overall top performing run was 390Bhp and 435FtLb of torque. This map has many built in safety functions which are thermally integrated, the map produces it's full potential only after the oil temperature is in the normal operating range. The Mil light will not come on for de cat or sports cat and to get best acceleration we recommend Sports mode with the traction turned off.
DS-ULTIMA-2+
The latest and greatest map Dreamscience have released for the RS. "The map that everyone is talking about". DS Ultima 2+ really sets the standard for tuning options for the MK3 with nearly 12 months of development to finalize and release to the public. This map has been extensively tested on the Road, Dyno and Track!
This map is ideal for a RS that is Standard, or Stage 1, or Stage 2. Yes that right, DS Ultima 2+ can be run with standard mods!A Standard RS MK3 can expect to see an increase around 45bhp & 80FtLbs Torque with 99 octane fuel. To achieve higher figures, this map is complimented by a 3″ downpipe, intercooler, cold air intake, Bigger Boost pipes ran with V Power fuel. For an independent review of DS Ultima 2+ please see the link:
DS Ultima 3
Dreamscience are delighted to announce the release of our latest tune for the RS MK3. Please welcome the Mighty DS-Ultima 3 to our already comprehensive choice of tunes for your RS. We have been working on this latest tune for several months and are delighted with the overall performance, power output, reliability and most importantly driveability. The vehicle used for the testing was fitted with a Dreamscience Motorsport 3" Down Pipe De Cat, a Velossatech big mouth cold air intake (Velossa Tech) feeding a Dreamscience Motorsport dry charge filter (Panel Filter), stock intercooler and stock cat back running Shell V-Power 99 octane fuel.
The test vehicle reliably and consistently produces around 405Bhp and just over 430FtLb of torque, this map as can be seen from the graph (Dyno Graph) achieves its peak power at 5350 Rpm and holds over 400 Bhp thereafter making it a bit of an animal when racing or making high rpm gear changes. The torque curve has no crazy spike and is controlled as can be seen from the graph we hold over 425Ftlb of torque from 2500 rpm to 4500 rpm with a flat torque curve and the drop off is only slight so the car always feels progressive and like it's continuously pulling hard! You will notice an over-boost feature with this map when driving that activates above 4500 rpm so you never have the feeling that the car is letting off power, ever! The small humps that can be seen in both the stock map torque curve, and the Ultima 3 torque curve, are a safety feature as we run to a load target / limit same as your stock file, this ensures that under harsh conditions your car will still perform safely and within tolerance.
This Ultima 3 tune must only be run with 99 octane fuel in the UK, 98 Octane in Australia, and ideally 99+ octane in other European countries who have access to higher octane fuels. If you struggle to find a fuel suitable we do offer an octane booster called Boostane (BOOSTane) which won SEMA product of the year 2016 and really does do what it says on the tin. This map is a free upgrade to any existing iMap customers, simply connect to a pc with the cable provided to our updater tool (iMap Updater) and select automatically check for updates, it's best not to use the handset Wi-Fi option for this update as it may drop out so in all cases use the cable!
Minimum modification requirements for optimum performance are
3" Downpipe with sports cat, Race Cat or De Cat (Down Pipe Link)
Cold air intake system, or panel filter upgrade with cold air feed (Panel Filter link) (BIG Mouth Intake Scoop link)
99 Octane fuel
Additional modifications which complement the map and produce extra gains
Upgraded intercooler (DS Intercooler link)
Big boost pipe kit
3" Cat Back exhaust system
The next release being worked on is DS-Ultima 3+ which utilises the following
Forge Actuator upgrade
Forge Re Circ upgrade
DS-Big boost pipe kit
DS Intercooler
DS-Oil breather system.
Enjoy, TeamDS
Race+
This tune file is ideally suited to the standard car set up and works with std 95 Octane fuel, if super unleaded fuel is used the map will make more power and offer better economy in the cruise. Usually good for an extra 15Bhp, and 12FtLb of torque with no other modifications. Improved acceleration with the adjustment of the factory torque limiters greatly improved 1st and 2nd gear acceleration and irons out the throttle delay.
Track
This tune file is based on Race+ but has all the ECU torque control and tip in intervention disabled so ideal for track racing. This tune is best suited for standard cars running super unleaded fuel. It produces similar power outputs to Race+ but disables any interferance from the ecu relating to torque. A practical feature for track days is the "Track Map" holds the rpm up when changing gears to eliminate delay during rapid acceleration.
Hyper Race+
Our newly created map best suited for 99 Octane super unleaded fuel, and designed for cars running common bolt on mods including Cold Air Induction Kit, 4-2-1 Branch exhaust manifold with full system, Race cat or de cat,a more aggressive cam shaft profile. This set up with std cams usually makes a proven 185 to 190Bhp, with cams added this usually makes 205 to 215Bhp. This HyperR+ map is truly a customer favorite and always produces excellent reviews.
Race 95
Dreamscience finally release a tuning solution for your ST-180 Fiesta, the Race 95 map as the title suggests is for standard 95 octane fuel and works well on cars that are standard or with partial modifications such as panel filter, cold air induction kit and cat back exhaust. This map offers an increase in torque of over 45 FtLb and over 30 Bhp in the mid range and picks the peak power on our test car to 202Bhp and 245FtLb of torque, if you want that extra power we suggest you fill up with V-Power 99 and run the Race 99 tune.
Race 99
This tune file is based on the Mighty Race 95 map and has been carefully calibrated to work with 99 Octane fuel like Shell V-Power. This map really isn't for the faint hearted as we have edited the torque limiters in the lower gears, refined the power delivery so the car will pull all the way to the rev limiter. This tune can be used on standard car set up or those with panel filter, induction kits and exhaust modifications including turbo down pipe. Our test car was completely standard with V-Power fuel and consistently ran just over 212Bhp peak and 268 to 272 FtLb of torque making this one of the strongest remaps for the otherwise standard car on the market. All tests were done on our 6 month old Mustang 4WD dynamometer in 9 degree ambient temperature.When giving this tune to several test customers they were all blown away to the power delivery all through the revs on the road, a must have for any ST-180 owner.
DS Ultima
The Dreamscience Stage 2 remap now signed off and complete. to experience the full fury of this map, we advise having after market modifications fitted such as an intake, full exhaust and inter cooler. This map will remove the mil light so it can run with a race cat or de cat. DS Ultima has been designed to not only improve peak power and torque figures across a dyno graph, but to maximize performance at lower RPM and the mid range. With supporting mods this map made a total of 220bhp and 288Ftlbs of Torque on our dyno.
The Calibration team at Dreamscience have spent months developing the latest Tune File to be released by DSHQ. This particular file has been written on our 4wd chassis Dynamometer and the open road. this ensure superior driveability and optimum power delivery.
DS Ultima. (Low Torque)
A great entry level Tune file for standard cars. This file will produce around 218bhp 240ftlb with the use of correct fuel grade and at cool ambient temperatures. This file will work with cars that have a lane filter fitted. Always use 99RON Fuel. We advise to use V-power99
DS Ultima+ (High Torque)
The next level up from the Ultima tune. This is designed to work with our Panel filters and makes up one half of our stage 1 kit. This Tune file should make up to 230 – 235bhp and 285ftlb of torque when set up correctly. Results are best with bolt on modifications such as Air scoops, intake, GPF removal to achieve optimum power. Although the peak HP increase is impressive, it is the whopping 50bhp increase in the mid range that sets this map apart from the other remaps on the market. This is where you will feel the biggest difference in performance and the results will portray this on the road/track where it matters! Not just a dyno graph. This will turbo your fiesta into an extremely quick car on the road.
DS Ultima 2.
Our latest stage 1 remap for the MK8 ST. MAP ONLY, this car will comfortably make between 225bhp and 232bhp with no modifications. There is a mid range increase of over 17ftlbs torque and 10bhp compared to tbe previous DS Ultima+ 'MAP ONLY'. Although we quote around 32bhp increase over standard, we have customers running this tune with very basic bolt on mods have achieved 252bhp on independent dyno's. 252bhp graph.
This is a brand new map which was finalised on the 12/11/2019. During this time we have had plenty of time to analyse and compare characteristics of other tune files that are currently available for the ST MK8. Although peak power on our MAP ONLY stage 1 only achieves a few more horse power compared to others on the market, where our map sets apart from the rest is the huge mid to high rev range power delivery (over 60bhp!) Where real road driving driving happens. This where you will get that ever so additive shove in your seat feeling with a map that will just keep pulling and pulling. Ideal for track days or competitive fast road driving. DS Ultima 2 is a map with extreme character and was designed with more that just dyno figures in mind. Although, now this map is becoming more and more popular,
We have created a map that doesn't lose its OEM heritage and benefits. When driven in standard mode, Eco features such as cylinder deactivation and stop start are still active as they are on the stock map. When the sport button is activated, this is where the magic happens. Not just performance, But sharper burble between gear changes, improved crackles in natural and instant throttle response. You wont even need to 'floor it' to know the car has come alive. When you do, you know your getting that legendary Dreamscience performance that will keep pinning you back!
DS Ultima 2 will also be available with full launch control as a separate, optional custom tune file (coming soon). All updates are available via email. With multiple tune files to choose from the iMap-E6, You'll be glad to know you can choose between your tune files an unlimited amount of times when loaded on your same VIN number.
Dreamscience work very closely with SCT (One of the biggest tuning companies in the U.S) to develop this tune. This partnership has ensured that we have the very latest device hardware technology, plus an un rivalled resource of combined tuning knowledge and experience. This DS Ultima 2 tune file has been filtered and analyzed by a team of over 10 tuning experts for not only optimum performance but for reliability. There are multiple safety parameters built into this map to ensure there is no unnecessary stress on the engine or other components on the vehicle. Through this process we have been able to build an exceptional reputation, making the iMap arguably the most recognizable plug n play handset for ST & RS models. Plus, with over 15,000 stratagem tuning handsets sold, you know Deamscience is a brand you can confidently trust to tune your ST.
With the ST MK8 being a new vehicle, warranty is one of the main talking points when it comes to tuning. Of course now, there is not a single company that can offer a remap that is covered under Ford warranty for the MK8 ST. There a few tuners that have software that can return to the car to stock settings through various ways. (Which sounds great in theory) . However, the iMap-E6, is one of the only, if not THE only platforms that allow you to return to stock settings without resetting the ignition counter. What does this mean? Other competitors on the market can put the car to stock, but this resets ignition counters and clears history of when the car has been mapped. So the cars information will show that the car, for example has done over 5000 miles but without turning the ignition on once. Which can look pretty suspicious. However, the iMap-E6 does not reset the ignition counter when the user selects return to stock. Which is why it has proven so popular on new vehicles for over 5 years. To date, we have had no issues when following this process. The stock file is built into the iMap-E6 so even if you are currently running another map, the iMap will over write and still give you the option to return to stock settings.
DS Ultima 2 Dyno Graph Fitted with DS Twin Air Scoops & DS Panel Filter.
A customer running the DS Ultima 2 map on an independent dyno making 252bhp. Dyno Graph.
When this map was tested with the full 76mm Dreamscience CAIS, and Dreamscience Intercooler and GPF removal. That figures were more than impressive and very exciting for customers looking for the top stage 1 set up. All figures will be launched in conjunction with the release our CAIS and intercooler very soon. With the models we specialize in, we don't always rush to be the first on the market but do make sure our tuning products are the superior option.
DS Ultima 3 (Coming Soon) this will form apart of our stage 2 and will require an after market Sports cat / Decat system.
**WARNING, THIS E6 HANDSET DOES NOT SUPPORT ANY OTHER MODELS AND CAN ONLY BE USED TO PROGRAM THE FIESTA ST MK8 AND THE MUSTANG V8 FACE-LIFT**
Race 99
The Ecoboost Mustang certainly looks the part but it does lack that extra grunt which makes it a muscle car. With the Race 99 tune we managed an increase of over 40 Bhp and 70 FtLb of torque which completely transforms a good car into an exciting car. Race 99 is best suited for super unleaded fuel but can be used on regular octane too.
Race 99 Induction
This tune is specifically calibrated for the JLT cold air intake system and gives and even greater power increase due to the direct delivery of unrestricted cold air to the turbo, vital in any high performance application. On our test car we managed to increase our power by 51 Bhp and just over 80FtLb of torque making this thoroughbred a true animal with the induction noise to suit.
Race 99
The optimum tune for your V8 Mustang, created in colaboration with the top calibrators from SCT USA the word leaders in Mustang tuning. This tune is ideally suited for the standard car set up, on our Dyno our std test car running Shell V-Power made 411Bhp & 365FtLb of torque. After flashing the car with the Race 99 tune we made an impressive 442Bhp and 396FtLb. We have ironed out several flat spots,improved throttle response and make gear changes much sharper when punching the throttle. See indepedant customer testamonial below..
Race 99 Induction
This tune file is based on the Mighty Race 99 map and has been carefully calibrated to work with the JLT cold air induction kit. When performing our tests on a std car runnng Shell V-Power and the JLT intake only, we made an impressive 452.7Bhp and 410FtLb of torque. This is an addittional 11Bhp and 14FtLb of torque with the cold air filter and revised map.
FORD MUSTANG ECOBOOST
Race 99
The Ecoboost Mustang certainly looks the part but it does lack that extra grunt which makes it a muscle car. With the Race 99 tune we managed an increase of over 40 Bhp and 70 FtLb of torque which completely transforms a good car into an exciting car. Race 99 is best suited for super unleaded fuel but can be used on regular octane too.
Race 99 Induction
This tune is specifically calibrated for the JLT cold air intake system and gives and even greater power increase due to the direct delivery of unrestricted cold air to the turbo, vital in any high performance application. On our test car we managed to increase our power by 51 Bhp and just over 80FtLb of torque making this thoroughbred a true animal with the induction noise to suit.
iMap Updater Tool.
Once downloaded, this tool will enable you to update your Dreamscience Stratagem iMap to have the latest calibration and map releases. This section also enables you to add custom tune files to your device if purchased from the Dreamscience website.
The iMap updater tool is only compatible for Windows Computers, Not MAC.
To avoid any interruptions whilst updating, We advise using the PC's internet connection rather than the wifi option of the handset.
How to Update my Stratagem iMap?
1. Follow the on screen instructions to make sure you have the SCT Updater (iMap Updater Tool) Software installed on your Windows PC. Plug in device after installation is complete.
2. After downloading and installing our Updater Software open the program. There should be an icon on your desktop. You can also search "Device Updater" in your Windows search bar.
3. Once Updater is open on your desktop. Plug in your device.
4. With the device plugged in select Automatically Check for Updates from the Basic Operations menu.
5. Your device should start to Update. Notice the bottom bar it will let you know what part of the update it's on. This can take some time so be patient. Your internet connection and computers speed can impact updating times. Average time is 5-10 minutes.
6. You know you are done when SCT Device Updater displays "Device is up to date!"